What to look for to get the most suitable quality for my hoodie
You may have been asked to buy good quality leavers hoodies for the school, but told: "don't let them cost too much, else the parents won't buy them".
At first, your likely response may have been to regret ever saying yes to organising the Leavers Hoodies for this school year group. Suddenly, "I'm too busy!" sounds better than "I'd love to!".
But, don't sweat it. Hoodies like most other garments (except maybe haute couture) are characterised by the simple fact that you get what you pay for.
Price factors
The factors which dictate the price of the finished decorated hoodies for your year group can, by and large, be attributed to a mix of:
Quantity being ordered
Quality of the hoodie itself
Quality of the Service provided
Brand name & manufacturing processes used
Hoodies at the lower end of the cost scale will be of less good quality than those at the higher end.
Quality factors
Factors affecting the quality of a hoodie
Materials used to make a hoodie
Most commercial hoodies, available in quantities suitable for a year group leaving school, are made using a mix of cotton and polyester. Over the years, this has been proven to be the nicest feeling, most robust and hardest wearing combination at price point that the majority of leavers' parents feel they can afford.
Hoodies with a higher proportion of cotton are generally viewed as being of better quality. The standard material mix is 80% cotton / 20% polyester. The specific details of the cotton can make a difference to the price too. So, 80% cotton is not necessarily the same as 80% Ringspun cotton or 80% Organic Ringspun Combed cotton and don't forget that you can find hoodies with recycled polyester vs just plain polyester.
If you want to buy organic for the leavers at your school, or go for recycled materials go for it. But, be aware that while you may be willing to pay that little extra not everybody will want to or will be able to afford to.
Hoodies manufactured from other materials are also available. For example, they can be made from Bamboo. But it is safe to say that there aren't too many parents who are going to be happy coughing up the necessaries for one of those for little Jacob or Lois.
Weight of a hoodie
When you look at the product listings for Hoodies most show a weight e.g. 280gsm. This is not the weight of the hoodie itself but the weight in grams for a square metre of the material from which the hoodie is made. This enables direct comparison between the materials used. A 280gsm (also shown as GSM or g/m2) hoodie in size extra-large (XL) might actually weigh more than an extra-small (XS) hoodie made from a 350gsm material.
Is heavier better? That depends on the planned use. If the Leavers are going to be using the hoodies for a post leaving dose of après ski then maybe thicker / heavier is better. But if it is just for wearing around during the following British summer and autumn then probably less so.
The most common heavyweight hoodies come in at around 350-380gsm. That is a significantly heavier material than the most popular ranges of leavers hoodies sold which are 280gsm.
Obviously, in most cases the heavier material hoodies will cost more to buy than a lighter material hoodie with the same features.
Features
Hoodies come with a fairly limited range of possible features. For some, one of the features is an absolute must-have while the same feature can be of no interest to other wearers. The two simplest categories which the features can be broken into are Design Features and Functional Features. Some features cross the boundary between these two arbitrary categories and, for simplicity, we have just listed them in one in the lists below.
Design Features
These are really just the way the hoodie is made turned into features for marketing purposes. The average hoodie wearer cares very little whether their hoodie uses "Twin-needle stitching detailing" and would be hard-pressed to recognise it if they saw it. But since you will be faced with a choice between the design features we will the most common ones here.
Twin-needle stitching detailing
Double fabric hood
Self coloured cords
Ribbed cuffs
Ribbed hem
Contrasting colours
Flat laced drawcords
Brushed inner fleece
Set-in sleeves
Three-panel hood
Cross-over neck
Raglan sleeves
Necktape
Functional Features
These are the ones that make a difference to what the wearer can do with the hoodie. Although, as said above, having a hole for a cable to pass through will be vital to one wearer but a matter of complete indifference to another.
Kangaroo pouch
Full-zip
Half-zip
Thumb-holes
Mobile phone pocket (inside kangaroo pouch)
Small opening for ear-phone cord feed
Hanging loop
Sporty fit
Girlie fit
Manufacturing processes used
While this is a factor that affects the quality of hoodies, it isn't something that is going to influence your choice much for this purpose.
Why? Because pretty much all suppliers of hoodies bought for school leavers are using the same manufacturers. These manufacturers make the hoodies in bulk. The different styles of hoodies and weights of material are turned into hoodies in the same way.
Don't care about price?
If you are fortunate enough to be buying leavers hoodies for a group that don't care about price then it is likely that you will start with the purchase of premium brand name hoodies at £75, £150, or maybe £250 each. You get these delivered to a printing / embroidery shop for decoration at an additional cost.
Indeed, the quality of the materials of these types of hoodies will generally be better than mass-produced hoodies and there will likely be some hand finishing during the manufacturing process too. But for most people, they are out of reach.
For normal people
Leavers Hoodies Company doesn't operate at that luxury/expensive end of the market. We work with suppliers of good quality mass-produced garments suitable for the normal person's budget. We decorate the garments in-house to keep costs down and ensure the quality of decoration is high.
Drowning in data yet?
Ok – that about covers the basics of what your hoodies could or could not have. Remember we said 'don't sweat it' a few hundred words back? Well what we meant is…
If you try to compare the features of every hoodie out there with every other one, across the websites or catalogues of multiple suppliers you may well drown in useless data.
Our suggested approach to buying a quality hoodie
Our suggested approach is to keep it simple!
Decide what the minimum features required are and then find a couple, or three, well-regarded suppliers and get quotes from them for a hoodie that meets those requirements. You may well find that the garment or garments you are being quoted for are the same across all of your supplier shortlist.
The quality of the hoodies used by most school leavers is similar. If you can get the parents of your leavers to spend a little more for each hoodie you can move up the range a little. But don't sweat it. The reason people buy leavers hoodies is that they are hard-wearing, they look good, they are relatively easy to decorate and personalise, and, most importantly, the kids love them.
Next Steps
Picking your 2 or 3 well regarded suppliers could start here. The Leavers Hoodies Company has been serving schools and colleges for many years. Each year we receive orders from some of the schools we have dealt with right from the beginning.
Contact us (during office hours) to discuss your requirements if you can't find exactly what you want on our website.
Summary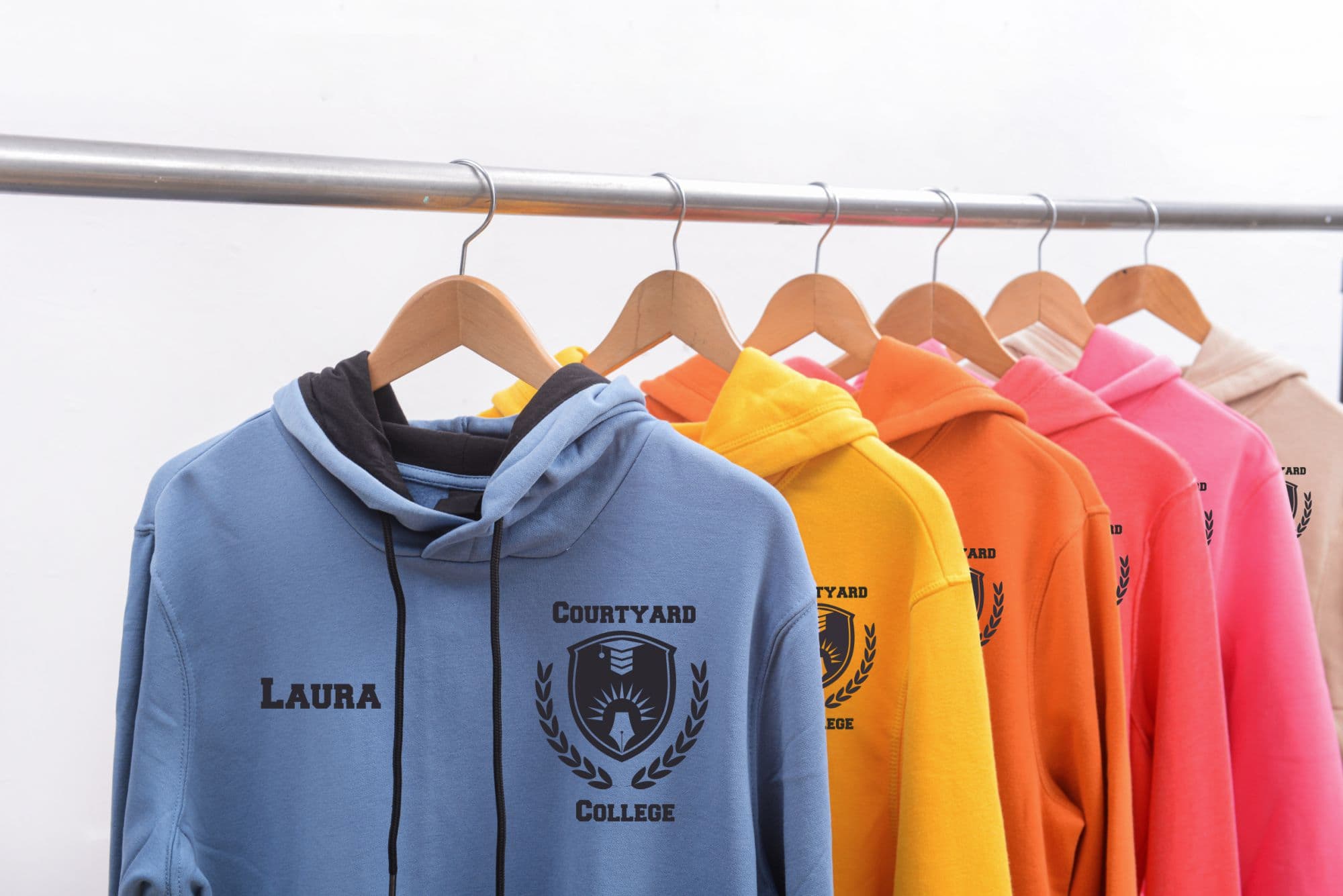 Article Name
How can I tell the quality of a hoodie?
Description
What to look for to get the most suitable quality for my hoodie You may have been asked to buy good quality leavers hoodies for the school, but told: "don't let them cost too much, else the parents won't buy them". This article looks at the things to consider and offers a simple process to ease your search.
Author
Publisher Name
The Leavers Hoodies Company
Publisher Logo